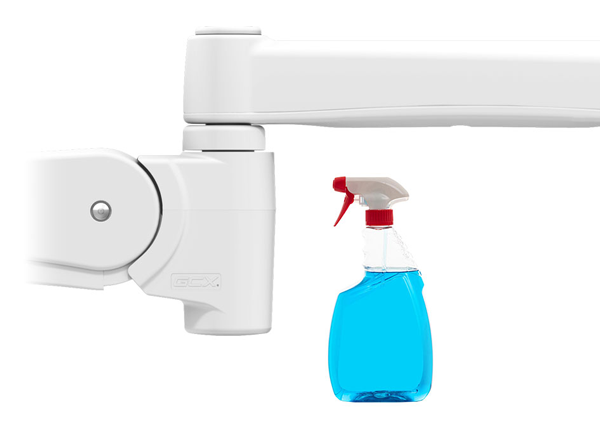 Infection Control and Cleanability
With infection control as important as ever, GCX solutions are manufactured under ISO 13485-certified quality standards and made with medical-grade materials that hold up to rigorous sanitation protocols and harsh cleaning agents. In addition to conducting wipe tests with a wide range of cleaning agents, GCX designs and constructs parts and equipment for easy, thorough cleaning throughout the day. This includes easily removed covers and unibody construction on many GCX products to prevent germs from lingering in hard-to-reach crevices.
When it comes to product durability and cleanability, consider:
All GCX product surfaces undergo wipe tests with cleaning agents ranging from various concentrations of isopropyl alcohol and Sani-wipes to commercial products like Lysol and Windex.
Our easily removed channel covers help hide cables and make cleaning quick and stress-free.
GCX arms like the VHM-T and VHM-P have a seamless, unibody construction that prevents debris and germs from collecting in hard-to-reach crevices.
Our materials are medical-grade to withstand constant usage and hospital-level cleaning regimens; whereas, commercial solutions typically are created for less rigorous, infrequent use.